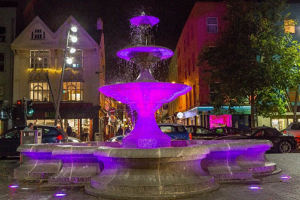 Ranked among the finest historical monuments designed and built in Ireland in 19th century, Berwick Fountain stands on the Grand Parade Street in Cork, close to Bishop Lucey Park. Built in 1860, the fountain was designed by Sir John Benson and named after Sergeant Walter Berwick, the Chairman of the Quarter Session court, who came to the city in 1847. An important figure in Cork judiciary, Berwick presented this ornamental fountain as a token of his gratitude to the city's people. Owing to its central position, Berwick Fountain is nowadays a popular gathering place for young people, especially for revellers in the early hours of the morning.
The fountain consists of a larger lower basin of moulded and chiselled limestone. An ornamental pedestal bearing a smaller circular basin, composed of a single block of limestone and paved with leaves and foliage on the lower edge, raises from its centre. A second pedestal springs from it, on which a third limestone basin stands out. From this last basin, a metallic pipe sends out a jet of water which, after rising to a remarkable elevation, falls down into the three basins below generating little cascades. The topmost basin in cast iron was supported by figures of dolphins resting on the basin below, lately removed during one of the many renovations.
Supervised by Cork City Council Architects Department, careful conservation intervention was carried out on the almost 160-year-old fountain over the summer, with the purpose of cleaning, treating and renovating all of its stonework, darkened by time and atmospheric agents. Cork City Council also decided to illuminate this famous historic fountain with a color changing RGBW LED system, that, beside an almost infinite range of shades, could also allow a white light illumination.
The fountain is now lit up, for the first time in years, through a professional LED lighting system, which has been installed by Cork City Council plant and machinery team under supervision of and according to the lighting design conceived by Gabriel Byrne, CEO at Enlighten, a Fantasy Lights Group company. Located beside Bishop Lucey Park, Berwick Fountain required a computerized management of its brand new LED lighting system, in order to harmonise its layout with the projected colour changing RGBW illumination of the neighbouring park.
To do so, 8 units of Ruby R with wall wash optics in RGBW colour configuration were embedded in the pavement all around the fountain, in order to deliver a splash of light mainly to the lower basin of the fountain. Featuring shallow recessed depth, RUBY R allows comfortable in-ground installation. Fitted with 20 RGBW LEDs, this newly engineered compact and versatile light fitting is ideal for spot lighting and wall grazing owing to the wide selection of exchangeable optics groups available, ranging from spot aperture beams to wall wash distribution. Among its main features, a 2000 Kg deadweight load capacity makes this recessed fitting suitable for ground mounting applications even in vehicular areas.
The three smaller basins of Berwick Fountain have been lit up from the bottom of the fountain with the help of submerged Waterled MK2 units in RGB colour changing configuration fitted with medium optics. Featuring stainless steel housing and IP68 protection rating, these underwater fixtures have been installed inside the main basin within specific anti vandal cages. The classic features of the fountain, its beautiful multiple cascade effects, along with its significant renovation works, are now lit up in brilliant colours, white included, which can be changed individually on each luminaire remotely via wifi as occasion demands.
The Berwick Fountain joins the necklace of historic buildings and features, which have been recently lit up in Cork considerably improving the nocturnal environment and ambiance in the city centre, right while Christmas shimmering festivities are approaching fast.
Products installed:
4x AL3342 WATERLED MK2 RGB MEDIUM
8x AL4992WWRW RUBY RECESSED WALL WASH RGBW
1x AL4118 POWER CDI COMMANDER
1x AL1321 INFRARED REMOTE CONTROL
1x AL3350 SEPARATE TRANSFORMER BOX FOR WATERLED MK2
Credits:
Contractor: Cork City Council
Client: Cork City Council
Commissioning: Enlighten, Fantasy Lights Group
Lighting design: Gabriel Byrne, Enlighten, Fantasy Lights Group
Pictures: OSM Photography, Cork